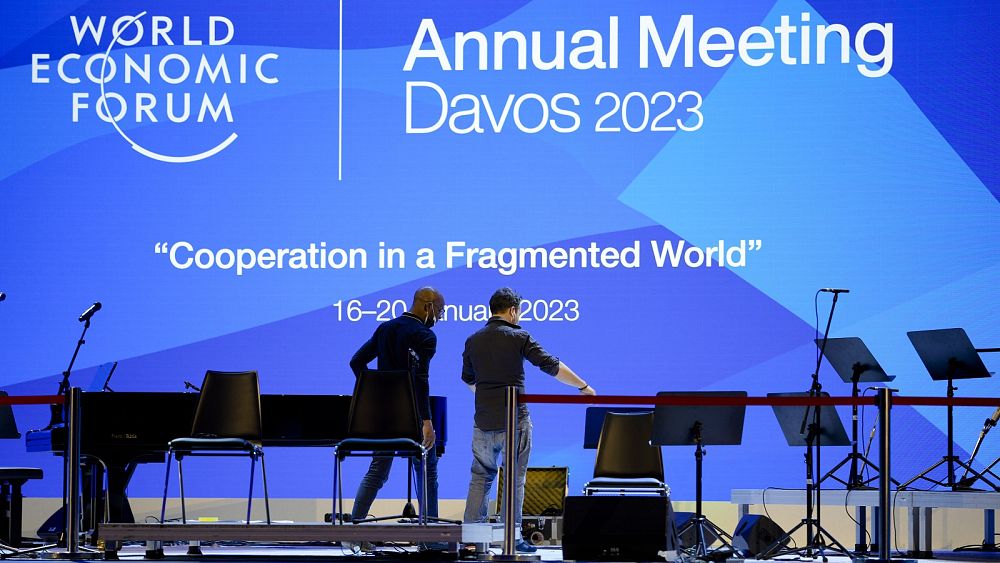 The World Economic Forum (WEF) is gearing up for its annual meeting in the Swiss resort of Davos this week. It will be the first time since the COVID-19 pandemic swept the globe that the event will return to its former scale last seen in 2020.
In the coming week, 50 heads of state and government from a mix of G20 and G7 countries are due to attend, as well as 200 cabinet ministers and 1,500 business leaders. All in all, 130 countries from around the world will be represented at the meeting in the picturesque town high in the Swiss Alps.
As with every previous meeting, the most pressing issues facing the world today will be up for discussion as the 2,700 invited speakers grapple to find potential solutions.
What is Davos and why is it important? Your guide to the World Economic Forum's annual meeting
The theme of the 2023 meeting is "Cooperation in a fragmented world". But which global challenge will be top of their agenda to tackle first? 
These are set to be the key talking points this year.
The cost of living crisis
Experts at WEF are describing 2023 as the "year of the polycrisis," a year in which all the problems humanity is facing have become more interwoven, more reciprocally damaging than ever and ultimately harder to solve.
In the short term, these problems are being boiled down to one key challenge: the cost of living crisis.
A majority of WEF's Community of Chief Economists are expecting a global recession this year as a result of geopolitical and economic tailwinds from the war in Ukraine coupled with crippling inflation.
In order to avoid the worst possible scenarios, heads of government and central bank governors – many of whom will be attending Davos this year – are facing the inevitable dilemma of whether to spend more money on their citizens to shield them from the biting cost of living crisis or hike interest rates to fight inflation which in turn risks unleashing a global recession.
Record number of business leaders head to the snow for World Economic Forum
The ongoing war in Ukraine
Russia's invasion of Ukraine dominated WEF's exceptional spring meeting last May, which took place just three months after the first strikes on Ukrainian territory.
As was the case in May, Ukraine's president Volodymyr Zelenskyy is slated to address the event via video link. Furthermore, for the second consecutive year, Russia will not have a presence at Davos with their traditional embassy Russia House (which in May was repurposed as the Russian War Crimes House), now taken over by the delegation from Maharashtra in India.
The ongoing conflict remains one of the most pressing issues being discussed this year, not least because of its implications for global security, defence policies, energy, and food production.
As well as its own "house" on the Promenade, Davos' main thoroughfare, there is expected to be another sizeable Ukrainian delegation present – including government ministers – at the event to continue to lobby for international support.
The climate crisis
As has become the norm, environmental activists have already arrived in force in Davos to protest – amongst other things – the hypocrisy of the global elite travelling to the resort in private jets amid an escalating climate crisis.
In previous years, Greta Thunberg has been invited to speak on panels at the event, as well as leading her School Strike with local youth activists. In May, the Arctic Base Camp pitched up on the Schatzalp – the peak overlooking Davos – to bring attention to the impact of climate change on communities around the world.
"A failure to mitigate climate change is ranked as one of the most severe threats in the short term but is the global risk we are seen to be the least prepared for," WEF experts wrote in its Global Risks Report published last week.
While the climate has consistently been on the Davos agenda for the last decade or so, it has arguably been pushed down the list of priorities. As it was in May by Ukraine, it is likely to be overshadowed again this year by a cost of living crisis that has been exacerbated by many factors, including inflation, rising fuel costs, and food shortages.
One of the big topics around climate change this year is set to be the process of decarbonisation industries and the energy transition. Investment in and the scaling up of new technologies, including more sustainable fuel sources, is a particularly pronounced topic with green hydrogen becoming a big buzzword this year.
Davos: 1 in 10 travelled by private jet to meeting designed to tackle climate change
The growing food crisis
Food insecurity, as with many challenges listed in this article, is largely interconnected with other global problems, key among them being the climate crisis.
The loss of biodiversity, ever-extreme weather, and the increasing number of natural disasters have played their part in growing food shortages.
In 2022, the world faced the triple threat of food, energy, and fertiliser shortages. Experts are already warning that more people will face hunger in 2023 than the previous years as food prices continue to spike, shortages bite deeper and more livelihoods are decimated.
How do we turn the situation around and avert inevitable future food crises? It's a question that will be earnestly posed and debated at this year's event.
What is quantum computing and how will quantum computers change the world?
The 'Fourth Industrial Revolution'
Technology and innovation are always key to all discussions at Davos. This year in particular, talk is turning to what many are calling a Fourth Industrial Revolution.
Increased interconnectivity, as well as advancements in areas such as artificial intelligence and quantum computing, are bringing with them thorny issues around governance.
Historically, regulation has been slow to keep pace with the surge in technological advancements. Increasingly, governments are choosing to take a more localised approach to this, especially given concerns over their country's national security.
However, with many crises now presenting themselves all at once – climate, war, cybersecurity, and so on – a more globalist approach is needed to unlock the potential of innovation to help solve the greatest challenges we are facing.
What would this mean? On a base level, it would require greater cooperation between companies and at a higher level, countries – to build trust and put safeguards in place.