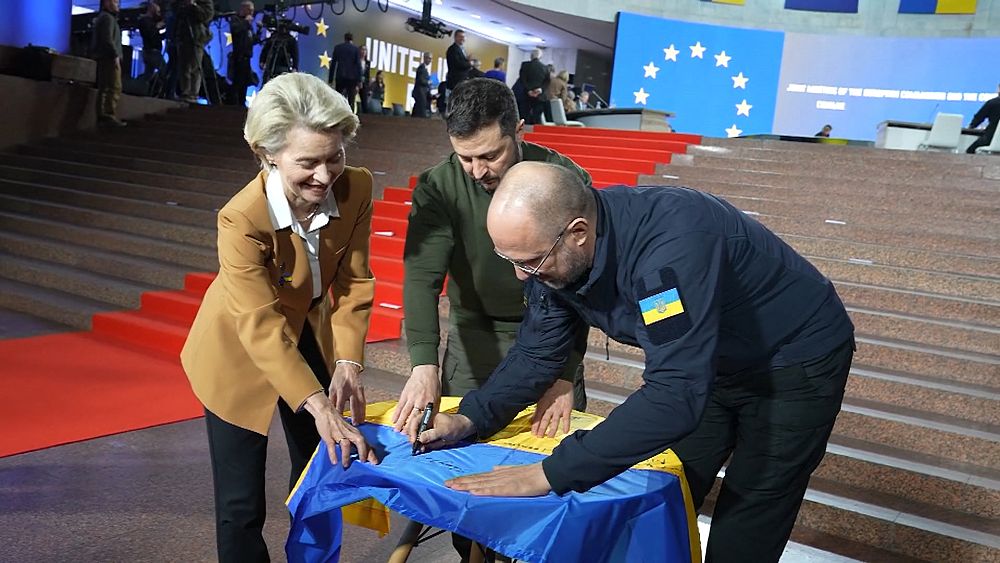 As Ukraine continues to fight for its freedom, the country's economy is faltering, suffering its sharpest downturn in more than 30 years, with a 30.4% drop in GDP.
The European Union has provided financial and military assistance to Ukraine over the past 12 months, holding Ukraine up as a symbol of European solidarity and safety from Russia, even paving the way for Ukraine to join the EU in the future, after granting it candidate status in June 2022.
In Kyiv on 2 February, alongside 15 European Commissioners, President of the European Commission, Ursula von der Leyen said: "Europe has been by Ukraine's side since day one, because we know that the future of our continent is being written here."
This, as the EU announced a new €450 million assistance package for 2023, which brings the total financial support to Ukraine from the EU, its Member States and European financial institutions to around €50 billion.
Where has the money gone so far?
The €50 billion provided by the EU, European financial institutions and Member States comes in different forms and is spent on a variety of areas, including humanitarian aid, military assistance, Macro-Financial Assistance and loans. 
Macro-Financial Assistance is a form of aid for EU partner countries experiencing a balance of payments crisis, and is used to finance government expenses like pensions, salaries, education and restoring infrastructure.
The EU has also pledged to donate equipment to help ease Ukraine's energy crisis, including 35 million LED light bulbs and 5400 generators, as well as help to repair the power grid, 40% of which has been destroyed by Russian missile strikes.
The cost of war
The World Bank estimates the cost to Ukraine, in terms of economic recovery and reconstruction of infrastructure, to be around €320 billion.
Much of this economic downfall is related to the mobilisation of workers, which disrupted key industries, such as agriculture and exports, upon which Ukraine's economy depends.
However, according to Ukrainian analyst at Dragon Capital, Olena Bilan, the economy has been surprisingly resilient, given the challenges the country faces.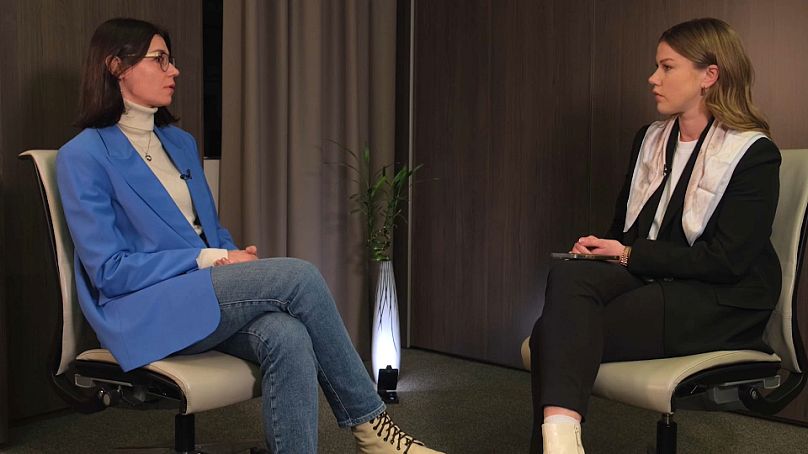 Olena Bilan, Chief economist at Dragon Capital (left); Sasha Vakulina, Euronews reporter (right)Euronews
She said: "In the first weeks of the war, half of the economy was not operating. But later on, we saw quite a quick rebound in economic activity. It lasted until October when Russia started its terrorist attack on Ukraine's energy infrastructure."
Despite this, Bilan added that Ukrainian people and businesses were able to adjust to the challenges posed by electricity shortages, with companies "buying generators, accumulators, starlinks".
Aid and investment for 2023
On top of aid, the European Union has committed to lend €18 billion in 2023 alone, with favourable loan terms.
The funds will be distributed in several instalments and are tied to conditions laid out in the Memorandum of Understanding between Brussels and Kyiv, which sets out rule of law reforms, economic deregulation, and a commitment to the fight against corruption.
Olena Bilan told Euronews that Ukraine needs to "make further steps on the reform path" in order to recover, adding that "Ukraine's authorities would need to show really an appetite and their will to reduce corruption."
The news was well-received in Kyiv; Ukraine's deputy Prime Minister, Olha Stefanishyna, said this latest "significant" EU package of aid gives "clarity" to Ukrainian citizens.
The International Monetary Fund estimates that the Ukrainian government is facing a financing gap of $38 to $39 billion (above €35 billion), therefore the €18 billion loan partially plugs that gap.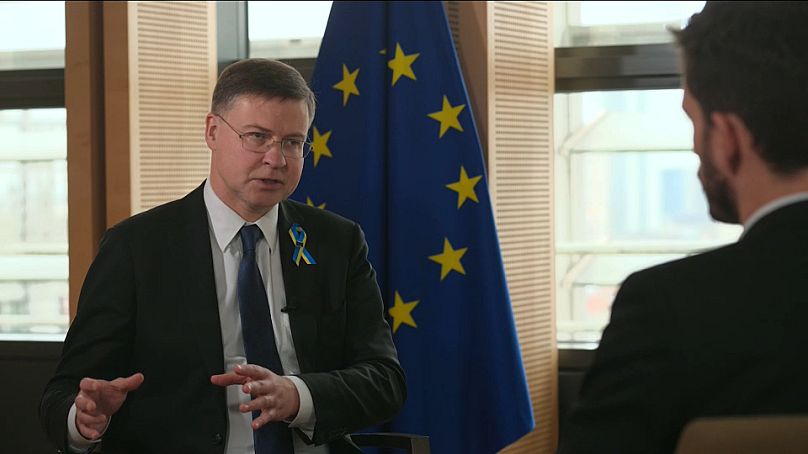 Valdis Dombrovskis, Executive Vice-President of the European Commission, Economy and TradeEuronews
Valdis Dombrovskis, Executive Vice-President of the European Commission, Economy and Trade, told Euronews that the EU expects "other international donors like the United States and other G7 countries, international financial institutions like IMF, like [sic] World Bank" to provide the remaining part.
Changes to EU-Ukraine trade agreements
The EU and Ukraine have had a trade agreement since 2017, but in June last year, the European Commission decided to unilaterally liberalise access to EU markets, a change set to last until June this year.
Under this agreement, Ukrainian goods and services can enter the EU without any tariffs or quotas.
Dombrovskis told Euronews that the EU is working on prolonging these measures, so that they will run past June, as the end of the war remains a distant prospect. 
Russia's role?
Von der Leyen had a clear message for Russia during her February visit to Kyiv: "Russia must be held accountable in courts for its odious crimes."
The European Commission President said that prosecutors from Ukraine and the European Union are already working together to collect evidence to be used in war crime proceedings, and said that the EU would continue to increase pressure on the Kremlin with sanctions.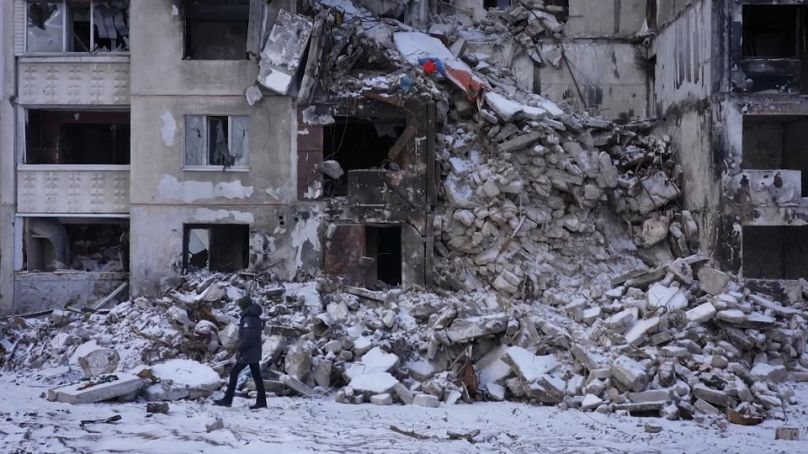 Destroyed Ukrainian buildingEuronews
Dombrovskis told Euronews that international institutions are looking into how they hold Russia to account for the damage it has already caused – and continues to cause – in Ukraine.
He said: "There is this principle in international law on responsibility of aggressor to pay for the damage. The question is how we will be able to enforce this principle, whether Russia will be willing to pay voluntarily, as I say, remains to be seen.
"We are looking at the possibilities on how the confiscated Russian assets can be used to Ukraine's reconstruction. This is a legal assessment which is still ongoing, which concerns both private assets and also Russia's central bank assets."
Additional sources • Cameraman Bruxelles : Yves Pottiaux Cameraman Kyiv : Rostislav Basiev Camera assistant Kyiv : Dmytro Kovalenko Fixer Kyiv : Eugene Risunkov Production : Louise Lehec Motion design : NEWIC