Hong Kong is giving away 500,000 airline tickets in an effort to woo tourists back to the region.
The tickets will be released in stages from March and will be available to Europeans from May onwards.
The city has removed its strict travel restrictions in recent months, including mandatory testing and isolation on arrival. It has now announced it will end its mask mandate on 1 March, which has been in place for over 2.5 years – one of the longest of any country. 
Masks will no longer be enforced on public transport, indoors or outdoors, though they may still be required in some high-risk settings. This was the city's last remaining COVID-19 restriction, and was previously enforced with HK$5,000 (€600) fines.
Now Hong Kong is hoping to bounce back from the massive impact the pandemic had on its tourism industry. And part of its plan involves giving away 500,00 airline tickets worth more than €250 million.
Back in October, executive director of the Hong Kong Tourism Board Dane Cheng told the BBC that the free tickets were initially bought to support airlines during the pandemic. 
On 1 February, Hong Kong's Chief Executive John Lee launched the $2 billion (€1.8 bn) 'Hello Hong Kong' campaign, with the flight ticket giveaway starting on 1 March.
Hong Kong received 56 million visitors in 2019 – over seven times its population – before the pandemic began. But its strict COVID restrictions have kept visitors away over the past three years, devastating the tourism sector and its economy. The city's GDP last year fell 3.5 per cent from 2021, according to the government's provisional data.
From queues to visa waivers, here's how Brexit has changed travel for Brits
Taiwan is paying tourists to visit: Here's how you can get spending money on arrival
How will Hong Kong's free ticket scheme work?
The giveaway will start on 1 March and last for about six months, with tickets released in phases. 
65 per cent of the free tickets will be distributed by Hong Kong-based airlines Cathay Pacific, HK Express, Hong Kong Airlines and Greater Bay Airlines through their direct channels or their agents. The remaining tickets will be reserved for tourism-related sectors to support inbound tourism and promote Hong Kong.
The giveaway will take various forms, ranging from lucky draws, to first-come-first-served, to buy one, get one free.
Tickets will be distributed gradually on the airlines' overseas platforms starting with Southeast Asian countries from March, followed by mainland China from April, and Northeast Asia, Europe and other markets from May.
Once the campaign launches, you will be able to register for participation via the airlines' websites. Links to their designated webpages will also be listed on Hong Kong Airport's website.
A further 80,000 free outbound air tickets will be given to Hong Kong residents in July, with more reserved for those living in the Greater Bay Area. In total, more than 700,000 tickets will be given away.
All tickets will be round-trip economy class, and winners will be responsible for paying all related surcharges, fees and taxes.
What discounts are available in Hong Kong?
Visitors can also enjoy special offers and vouchers among other incentives in the city.
One million vouchers worth over HKD100 (€11.60) each will provide discounts on food, drinks, transport, hotels, retail and attractions. They will be distributed at tourist inquiry counters located at four border checkpoints from 5pm on 2 February, according to Time Out Hong Kong. 
The city will also host more than 250 events and festivals throughout 2023, from the Hong Kong Marathon to the Clockenflap music festival, Art Basel and Hong Kong Rugby Sevens.
20 years in the making: Take a look at Hong Kong's newest neighbourhood
What are the entry requirements for Hong Kong?
Hong Kong had some of the strictest rules for travellers throughout the pandemic.
The city largely aligned itself with mainland China's 'zero-COVID' strategy and has relaxed its entry rules months slower than rivals such as Singapore, Japan and Taiwan. 
In September, mandatory quarantine on arrival was dropped. But even after Hong Kong reopened its border with mainland China in January, tourism recovery was sluggish.
Now, the rules have been relaxed fully. The Hong Kong government advises inbound travellers to conduct a rapid antigen test on arrival and again on day five of their visit. But if you test positive, you are no longer required to isolate.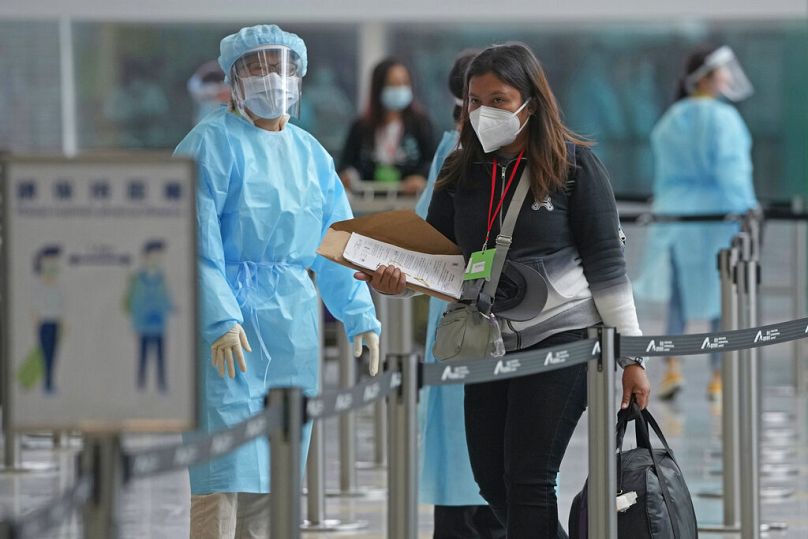 Workers wearing protective gear direct arriving passengers to quarantine hotels in the Hong Kong International Airport in April.AP Photo/Kin Cheung
As of 6 February, proof of vaccination is no longer required for non-Hong Kong residents. This means you do not need to be fully vaccinated, or show proof of vaccination to enter Hong Kong.
You are no longer required to test or quarantine when travelling from Hong Kong to mainland China. However, if you have visited a third country within the last seven days, a negative PCR test taken within 48 hours of arrival in the mainland is required.
Revealed: These are the world's most (and least) powerful passports in 2023
Flight-free travel: The best new European train routes launching in 2023 and 2024
Hong Kong fully reopens border with mainland China
From Monday 6 February, all travel restrictions between Hong Kong and mainland China will be dropped.
Until now a negative PCR test was required, as well as pre-registration to get permission to travel via land.
At a press conference Hong Kong's Chief Executive John Lee said, "I am now announcing that the full border reopening between Hong Kong and the mainland will begin on February 6, which is next Monday.
"A full opening of the border means, firstly, that there will be no limit on the number of people at all border crossings, no need to make prior reservations, and you can travel freely as you want.
"Secondly, the requirement for pre-entry COVID-19 testing will be abolished, so that COVID and other tests will no longer be required, and (people) are free to enter and leave. Thirdly, all immigration control points will be opened."
Qatar Airways, Singapore Airlines, Emirates: What's the world's top-rated airline?
Morocco lifts its final COVID restrictions: Everything you need to know to plan your trip
Virgin Atlantic stops flights to Hong Kong after 30 years
The closure of Russian airspace after the invasion of Ukraine means some airlines won't be resuming services to the city.
Virgin Atlantic announced in autumn that it would be closing its offices in Hong Kong after 30 years. Flights to the city were suspended when the pandemic hit and had been due to return as part of the 2023 summer schedule.
The carrier made the decision to pull out of the Asian travel hub altogether. Several factors contributed to the decision including the closure of Russian airspace adding at least an hour to journey times.
Customers who had booked to travel to Hong Kong with Virgin Atlantic from March 2023 have been offered a refund, voucher or the option to rebook on an alternative route with the airline.
Taiwan is also incentivising tourists to visit
Taiwan recently launched its own scheme to boost visitor numbers. It is offering to pay tourists just over €150 to holiday there this year.
The East Asian country is seeking to welcome six million tourists in 2023, and hopes lining their wallets with NT$5,000 (€158) will help win them over.
Announcing the proposal in February, Minister Wang Kwo-tsai explained that the tourists' spending money will be delivered digitally and can be put towards accommodation and other costs in the country.
He did not specify when the scheme would start.