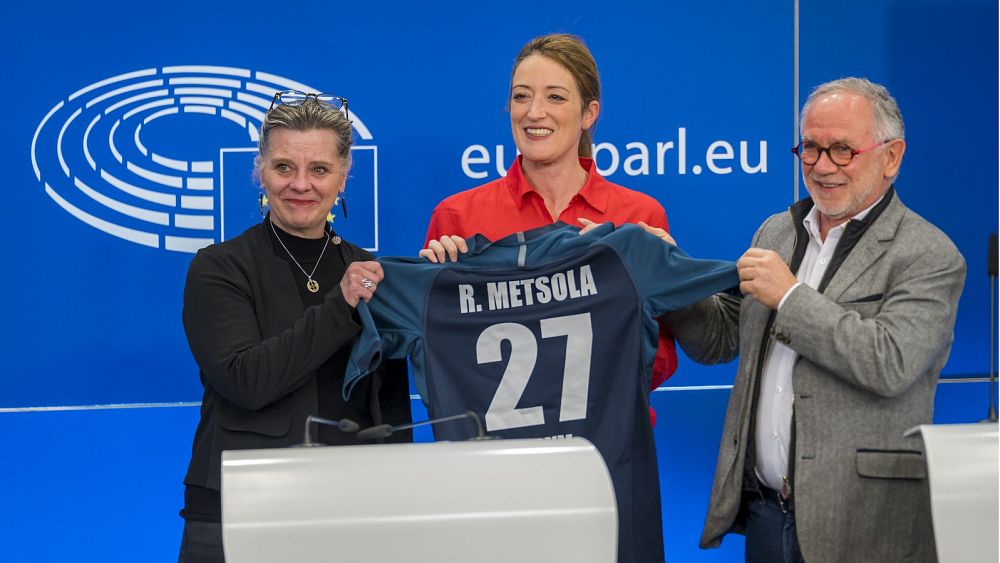 The European Union will for the first time participate in the parliamentary Rugby World Cup this year.
The event will be held in Paris From August 31 to September 8 and see about a dozen teams from around the world battle it out to wrestle the trophy away from current holder New Zealand. 
European Parliament President Roberta Metsola on Wednesday described it as "quite simply historic" to have an EU team take part in an international sports competition. She also highlighted the need for more interparliamentary cooperation worldwide.
"So with our participation in the Parliamentary World Cup, our European rugby team will also bring bridges and build them with other parliaments from Europe and beyond, promoting exchange and understanding, because sport is a universal language, bringing people together across borders and across cultures," she told reporters.
So far, the EU team counts about 40 players from 15 nationalities, and crucially, it is mixed. Representatives of the European Commission and European Council are also on the team.
French MEP Anne-Sophie Pelletier (The Left), co-captain of the team, said she is "delighted to have a mixed team that will allow women to play. Our values are in line with a common objective: to promote European values, living together."
Her co-captain, French MEP Eric Andrieu (S&D), conceded that parity is not yet achieved but said it was "the goal".
The team will have its first test later this month, with a parliamentary 6 Nations Match against the French team, which defeated South Africa to claim third place four years ago in Japan. A gala match against the Japanese Diplomatic Rugby Team will be held in June. 
All the proceeds from these matches will be given to charity as will profits made by the Parliamentary World Cup. The EU team will also ensure EU values are reflected in its choice of sponsors.
"We have respected, I would say, the fundamentals of the European Parliament, i.e., roughly around the Green Deal," Andrieu said.
"So we will not accept cigarette companies, for example, nor airlines as partners or sponsors, anything that could effectively derogate from the political choices of the Union, they will be refused," he added.