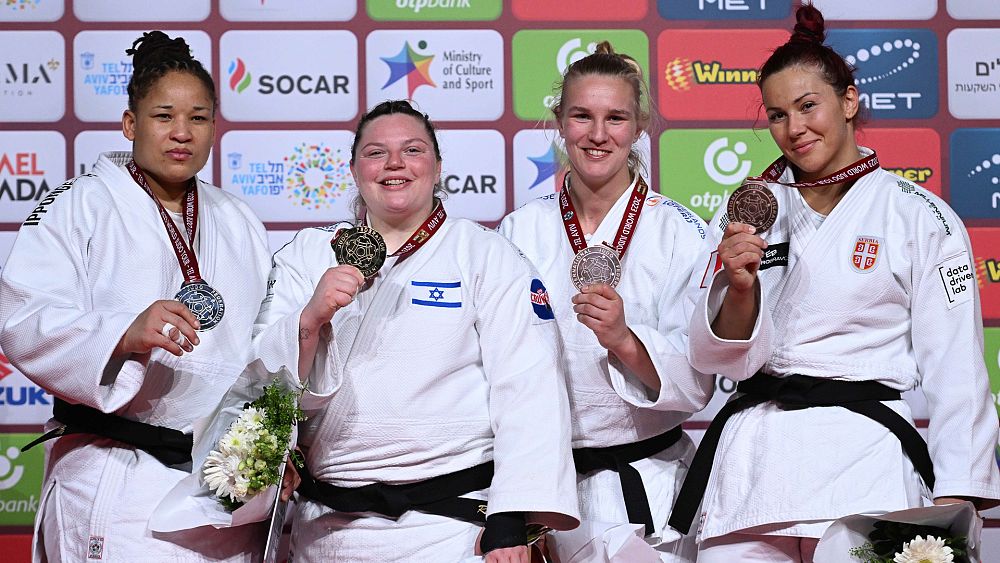 The beautiful city of Tel Aviv played host to the final day of an amazing Grand Slam as the sun set on another successful Judo competition here in Israel.
It was time for some razzle and dazzle at +78kg, as Raz Hershko put on a show in the preliminaries before defeating Turkey's Kayra Sayit in the final.
It's amazing, I love, I love to compete at home, with all this amazing crowd it's crazy.
Raz Hershko
+78kg gold
Having never taken gold before on home soil, today was her day! And the crowd got exactly what they came for, a golden finish to a 3-day feast of judo. There were wonderful scenes as Hershko celebrated with the next generation of Israeli judoka.
IJF Ambassador Lior Raz was on hand to present her with the gold medal.
"A-A-Mazing! WOW!," she said afterwards. "It's amazing, I love, I love to compete at home, with all this amazing crowd it's crazy. From the beginning until the end, they are shouting, they pick you up and it's fantastic"
Gviniashvili continues to dominate
At -90kg friends and rivals Beka Gviniashvili from Georgia and Krisztian Toth from Hungary hugged pre-match, before the Georgian continued to dominate their rivalry, taking gold in emphatic fashion, before they once again showed their respect for each other at the end of the contest.
IJF guest Mr Moris Janashvili was on hand to award the medals.
At -78kg world master Alice Bellandi of Italy claimed gold once again, with a win over Madeleine Malonga of France to take her fourth World Judo Tour gold medal in just a few months! She is really dominating her new weight category.
She was awarded her medals by IJF Head Sport Director Vladimir Barta.
At -100kg Azerbaijan's Zelym Kotsoiev took on Paris Grand Slam champion Michael Korrel from the Netherlands and overcame him with this brilliant piece of judo.
He was awarded his medal by IJF Events Director Dr Lisa Allan.
"I love fighting here in Israel," he said afterwards. "It's an awesome atmosphere, with so many children cheering. The people here love Judo a lot, it's really energising".
Judo-loving Israel cheers the return of the World Tour
Sagi Muki is Tel Aviv's hero on Grand Slam Day Two
Tsetsentsengel's heavyweight triumph
At +100kg Mongolia's Odkhuu Tsetsentsengel took his tally of grand slam golds to three with a hard-fought victory over Azerbaijan's Ushangi Kokauri.
The medals were awarded by IJF Head Referee Director Florin Daniel Lascau.
The home crowd had a day to remember and went wild for their heroes from start to finish. After one of the best contests of the day, Peter Paltchik had them on their feet, and even though he ended the day without a medal, he epitomizes the energy and excitement around the future of Israeli Judo, and how bright the judo stars shine here.