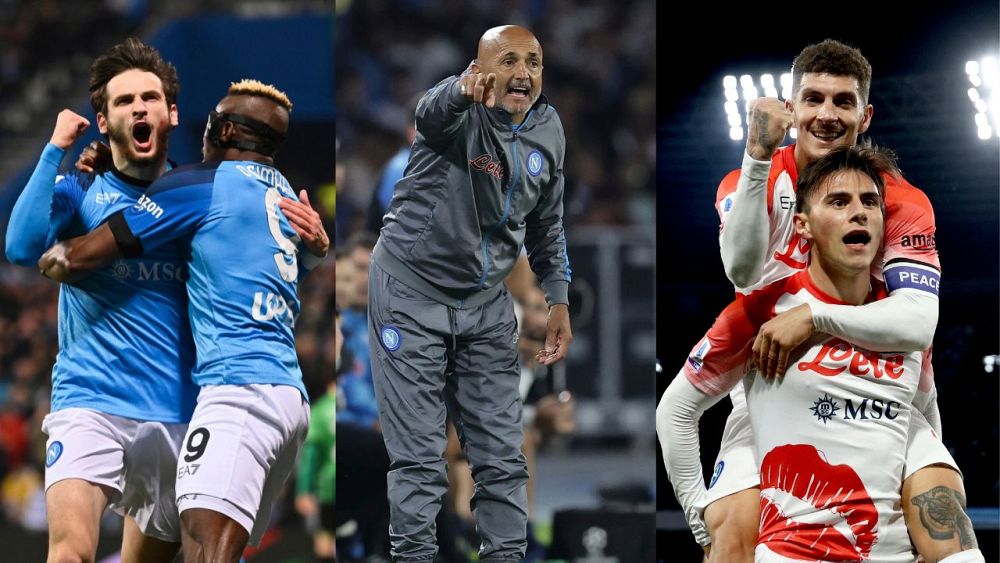 30 years after their last Scudetto, it looks like the long wait for a title could finally be over for Napoli this season.
In his second season as manager, Luciano Spaletti made some drastic moves in the transfer market. Regulars Kalidou Koulibaly, Fabian Ruiz and Lorenzo Insigne were out, opening the door for some new faces. Centre-back Min-Jae Kim was signed from Fenerbahçe, and explosive winger Khvicha Kvaratskhelia came from Georgian side Dinamo Batumi. Both players have been integral to the success that has followed.
Min-Jae Kim has been excellent for Napoli this seasonAndrew Medichini/Copyright 2022 The AP. All rights reserved
After kicking off the season in August, Spaletti's free-flowing style of play has stunned almost every team in their path. Before the FIFA Qatar 2022 World Cup break, they went unbeaten in Serie A in the first 15 games.
And the good form continued after the tournament, with their first loss of the season coming in a tight game with Inter at the beginning of January. Later that month, Juventus, one of the biggest clubs in the country, could not live with Spaletti's team as they were beaten 5-1 at the Stadio Diego Maradona, in what was probably the most complete performance of Napoli's season. With 13 games to go, Napoli find themselves a resounding 15 points ahead.
In recent times, Napoli have come close to this significant achievement but have always fallen short. They had a recognisable team with many great players that were household names around Europe, players like Kalidou Koulibaly, Lorenzo Insigne and Dries Mertens. But they couldn't hold their nerve to secure the big prizes in the big moments.
"Under former manager Maurizio Sarri, they played some of the best and most beautiful football we had seen in Italy," explained European football journalist Mina Rzouki.
"What he created at Napoli will live in legend, but unfortunately for him he couldn't quite beat a very dominant Juventus at that time."
In 2021, Napoli hired a new manager: Luciano Spaletti. He's been in management for nearly 30 years, but his only success at winning titles has come in Russia, not Italy. His tenure started quite promisingly at the beginning of last season, but once again, Napoli couldn't maintain their form and fell away.
Then, in 2022, many of these veterans departed from the club. Koulibaly joined Chelsea, Insigne joined Toronto in the MLS and Mertens went to Galatasaray in Turkey.
"So, this season, everyone expected Napoli to drop off a little bit; to have a year of transition," Mina continued, "but weirdly enough, ever since they lost their veterans, they seem to have shaken off that weakness on a psychological level. And right now they don't feel the pressure, they are simply having fun."
Napoli are over 30 years without winning a league title, and with the dominance of Juventus, Milan and Inter in the league over the decades, this really is a special occasion for Italian football. But for Naples, it means more than words can really describe.
"It can't be overstated the importance that a Scudetto or a Serie A title would have to the City of Naples and to Napoli as a club,"
Nima Roodsari
Co-Host, The Italian Football Podcast
 explained Nima Roodsari, co-host of The Italian Football Podcast.
"I remember interviewing former Lazio manager Sven-Goran Eriksson, and he explained how the owner of that club told him that one title with Lazio would be worth 10 for the likes of Inter, Milan and Juventus. The same will be said for Napoli. The city will be a party zone for three months, if not a year."
Napoli's squad is now littered with players that are fast becoming some of the biggest stars in Europe. Victor Osimhen, Khvicha Kvaratskhelia and Frank Anguissa have been astronomical signings to get Spaletti's team to where they are.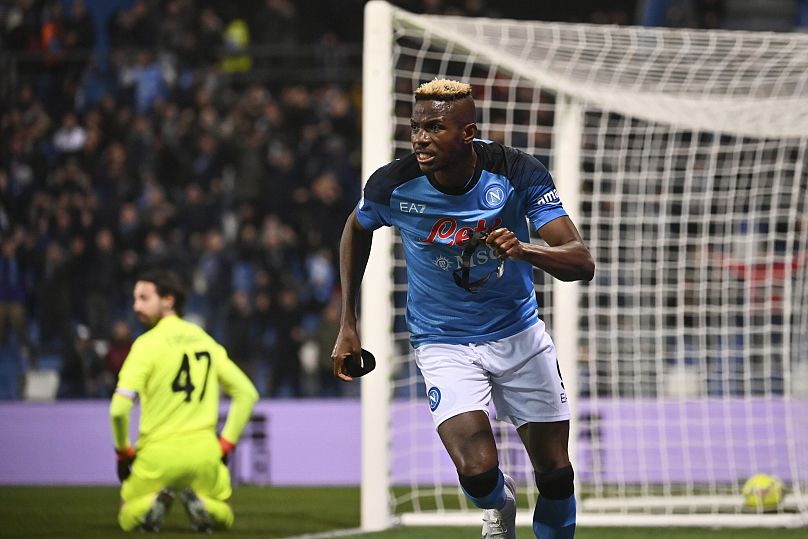 Victor Osimhen has attracted the interest of many top clubsMassimo Paolone//LaPresse
The only issue is that these players are catching the attention of some of Europe's biggest clubs. Manchester United, notoriously in the market for a striker this summer, have Osimhen on their radar. Kvaratskhelia, a relatively unknown winger from Georgia just 12 months ago, has openly stated he has big aspirations to play for Real Madrid in the future. So, if Napoli fail to win the title from here, could this be the only big chance they get?
"I do think this is now or never in Serie A," continued Roodsari, "I really think that. But if they do win the Scudetto and, by some miracle, win the Champions League as well, then they have opened a winning cycle. They will then also have the finances to keep these, or to possibly offer them contract extensions with pay rises to get them committed to the club for longer. That is absolutely possible."
So, we're on the verge of history in Italian football as Napoli look to secure their first Serie A title in 33 years in the coming weeks. It's been a long time coming for a one-team city who live and breathe their football club.