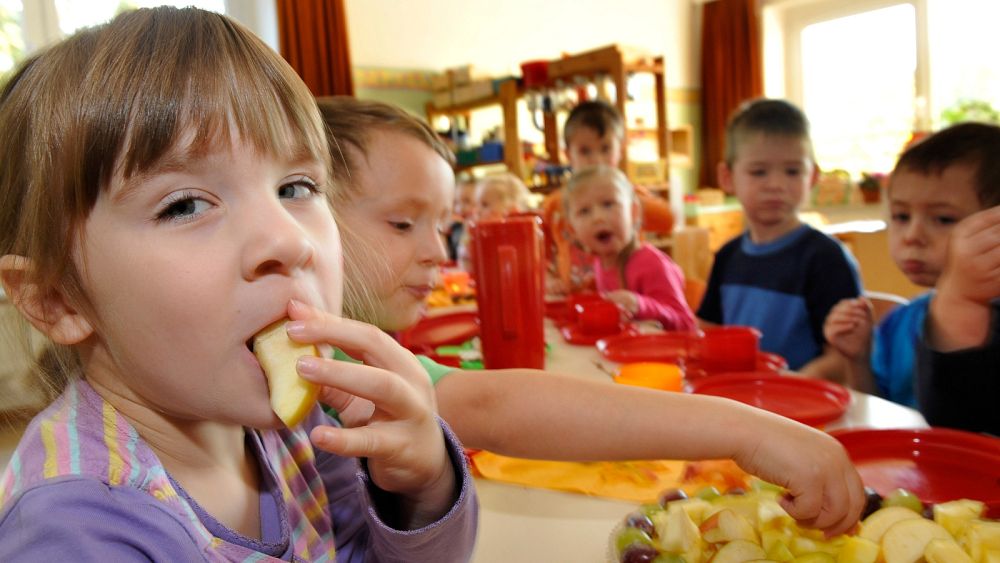 Sarah Ronan once had to resign from a job because she couldn't afford childcare. 
Far from being a rare example, it's a story that's all-too-familiar in the UK, which has some of the highest childcare costs in Europe, and where women are actively discouraged from going back into the workplace after starting a family, because of the expenses involved. 
"Like many parents, I had to piece together that childcare puzzle to make it all work. My son was with one set of grandparents two days a week and with another set one day a week. He was in nursery for only two days a week. And then, the situation with the grandparents changed due to ill health," says Ronan, project lead for the Early Education and Childcare Coalition at the UK Women's Budget Group.
Money is putting off under-35s in the UK from having kids. How do child benefits compare in Europe?
"I was faced with having to put him into daycare five days a week. The cost of that was £1200 (€1356) a month. After tax, I was earning about £1700 (€1921) a month," she tells Euronews. 
The latest survey carried out by the charity Pregnant The Screwed finds that childcare in the UK can consume up to a whopping 75% of parents' incomes.
In 2022 the UK became the most expensive country for childcare across the developed world, prompting thousands of people to protest in cities across the country in what became known as the "March of the Mummies" last October.
New mothers' health improves if fathers can stay home, new study claims
"So far the government has not done anything about the cost of inflation in the UK. It looks as though childcare costs are going to rise by at least another 10 per cent in April," says Joeli Brearley, the founder of Pregnant Then Screwed. 
"On average, it costs £14,000 a year for a childcare place and we're looking at that going up by £1,000 a year," she tells Euronews Next.
One in every three parents who participated in the survey revealed that they were already relying on some form of debt to cover their childcare costs. 
Amid an ongoing cost-of-living crisis that has already made basic necessities like food unaffordable in Britain, the high cost of childcare is exacerbating socio-economic inequalities and impacting women disproportionately, forcing them to reduce their number of hours or to leave the workforce altogether. 
And an estimated 1.7 million women in the UK are working fewer hours than they would otherwise due to unaffordable childcare, according to the Centre for Progressive Policy.
How do childcare costs compare across Europe?
Across EU countries, up to 90 per cent of children aged three to five, and one-third of children under the age of three attend formal childcare centers. However, the costs of childcare vary wildly across the continent. 
Percentage of income spent on childcare costs
Childcare costs range from less than 5 per cent in Germany and Austria, where parents living in the capitals even benefit from free public childcare, to almost 52 per cent of median female earnings in the United Kingdom, according to data from the OECD.
In most European countries, parents can benefit from highly-subsidised childcare which reduces the financial burden on parents. 
In the Netherlands, for example, where the market is dominated by private providers, the cost could go as high as 80 per cent of median female earnings. 
However, after childcare benefits are provided for by the government, low-earning parents in the Netherlands end up paying only 5 per cent. In fact, the Dutch government is planning a scheme that would cover 95 per cent of childcare expenses for all working parents by 2025.
UK at one end of the spectrum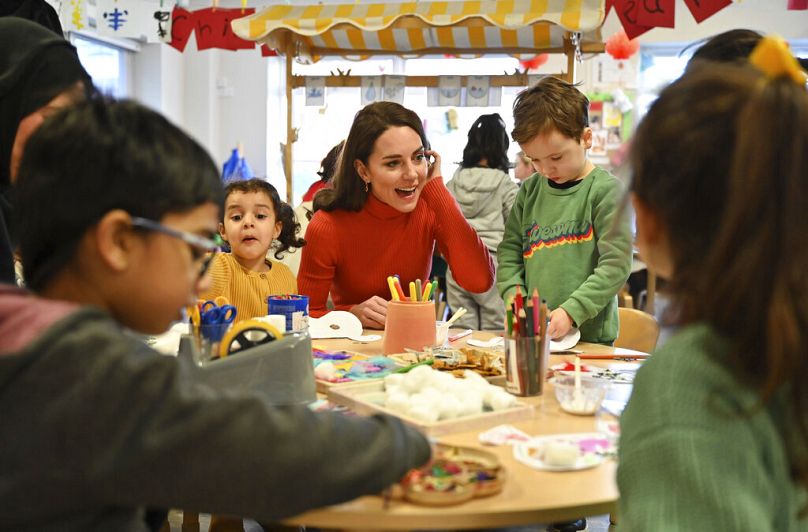 Princess of Wales visits Foxcubs Nursery in Luton, England, Wednesday, 18 Jan 2023, as part of her work to elevate the importance e of early childhood to lifelong outcomes.Justin Tallis/WPA Rota
In the UK, however, this isn't the case despite the government investing £4 billion (€4.52 billion) into childcare each year for the past five years, through eight different support schemes. 
"The types of support that are available really don't meet the needs of families anymore," says Sarah Ronan from the Women's Budget Group. 
This could partly explain why an estimated one million eligible families in the UK have not taken up their right to tax-free childcare which pays £2,000 (€2,260) annually.
"The government's very good at talking about these benefits. The actual administration of them and the accessibility of them is dire," says Pregnant then Screwed's Joeli Brearley.
Want to work from home? These European countries are the most open to hybrid or remote work
Disadvantaged families in the UK can also apply for the Universal Credit Childcare which pays up to 85% of childcare expenses for low-income families who earn £16,000 (€18,080) or less annually, but the money is paid back in arrears.
"If you don't have the money, to begin with, where can you find it? It's not like it's in the back of a couch?" says Ronan. 
"And because of this, you end up in a situation where you've got only 13% of people that take up that offer of support, and of that 13 per cent, 81 per cent are single mothers".
Germany's Kita network still has its flaws
FILE: Former German Family Minister Ursula von der Leyen, prepares a healthy meal at Firlefanz day-care center Berlin, February 2008Franka Bruns/AP
On the other end of the spectrum are countries like Germany where the average annual cost of childcare is only €1,310.
Since 2013, children older than 12 months are legally entitled to a spot in daycare centers called Kitas through their local municipality. Kitas typically charge €70 to €150 per month, but the cost is then subsidised by the state.
Clara Gruitrooy, a businesswoman and a mother of two, says she feels lucky because before she was living in Hamburg, but now she's based in Berlin where childcare is free. 
Four-day week: Which countries have embraced it and how's it going so far?
Gruitrooy heads the Berlin branch of Working Moms, a German association where likeminded mothers in leadership positions can offer support to each other on how to balance motherhood with work.
"If I could not have afforded childcare, I don't know how I could've gotten to where I am today," she tells Euronews Next. 
However, while the childcare model in Germany is enviable for countries like the UK, it is far from perfect. 
In many places in Germany, Kitas are understaffed with long waiting lines, especially for children under three. In a survey done by the German Youth Institute in 2020, 49 per cent of parents with children under three reported they needed a Kita but only 24 per cent were able to secure the number of hours they needed.
"In Germany, it's not a question of price, fortunately, luckily, but it's also a question of finding a place," says Gruitrooy who struggled to find a place for her daughters before they turned one at a time when she was setting up her own business. 
Since her entrepreneurial career made it possible to work remotely, she managed to make it work until she could place her daughters in a Kita.
"If you have acquired the freedom to have free childcare, you don't question this anymore," says Gruitrooy. 
"Now the debate is about quality, about equality, and about service".