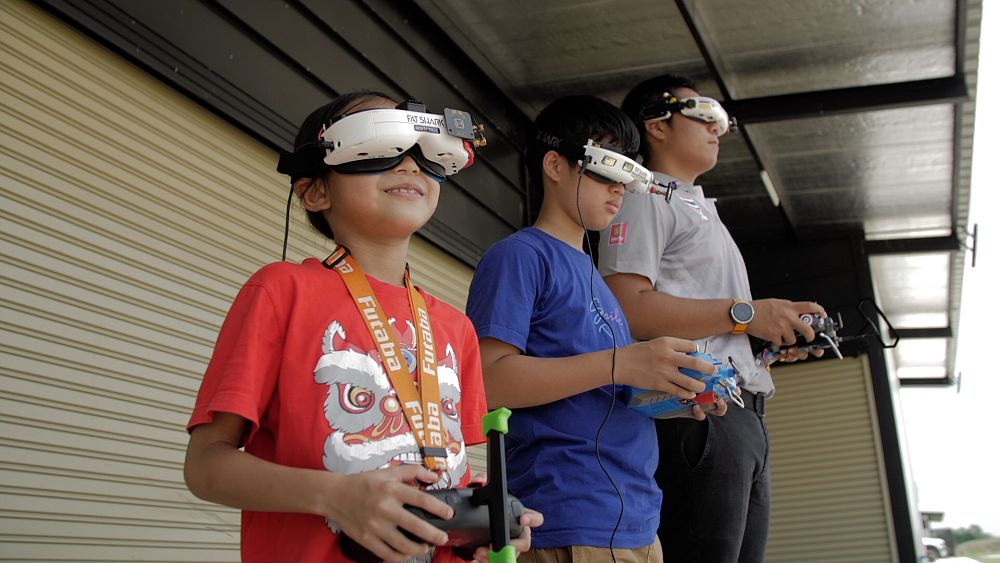 SCENES shines a spotlight on youth around the world that are breaking down barriers and creating change. The character-driven short films will inspire and amaze, as these young change-makers tell their remarkable stories.
Flying a remote-control plane is generally a thrilling experience. However, flying a first-person-view drone (FPV) offers an entirely different level of excitement.
Seven-year-old Worwawit Supsea, also known as Pepper, is the world's youngest FPV drone pilot. Pepper has been fascinated by flying drones for as long as he can remember. As a world-class competitor, he has won many titles. "It's like I'm going into the cinema. It's like seeing images everywhere, but the images move," says Pepper.
Pepper was only 4 years old when he first starting flying drones, making him the youngest FPV pilot in the world.Mary Hasavari
A riveting experience
Pepper is part of a growing community of young FPV drone enthusiasts from Thailand, pushing the sport to new heights. He joined an FPV drone racing team called the XBlades. Together, they participate in international competitions.
FPV drones have become popular in recent years due to their speed, manoeuvrability and the immersive experience pilots feel whilst flying. FPV operators typically don goggles that give them a live view of what the drone camera is capturing. "I can fly in many directions, your sight range – you can see everything. Sometimes the image is very clear," Pepper tells Scenes.
'Float like a bird'
Seven-year-old Pranita Saianuchat, known as Nutcha, is also part of the XBlades Racing squad. Four months ago, she competed in her first race. "I like to do extreme sports and drone flying because it makes me happy. I can float like a bird every time I fly," she says.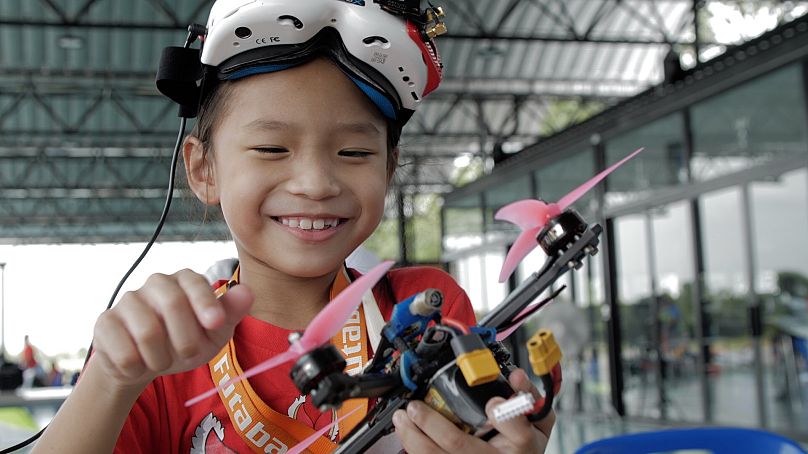 Young drone pilot Nutcha participated in her first competition at seven years oldMary Hasavari
The FPV pilot can watch events from the drone's viewpoint via a live video stream, which is why it is known as a 'first-person view.' "When I wear the VR glasses, it feels like I'm on a roller coaster. I was a bit scared the first time I tried it. I was afraid of heights, and in the beginning, I didn't like the speed, but now I love it," Nutcha says.
Pepper's dad Worasorn Subsri stresses the value of hard work to his son. "It requires training, just like being a pilot. If you want to become a pilot, you need to complete your required hours. If you don't practise, you won't be able to compete with others," he says.
Meet the child chef cooking up a storm in Kenya
Meet the first female air sports pilot in the Middle East
Meet the kitesurfing instructor harnessing the wind and waves in Qatar
A growing popularity
FPV racing is a popular hobby among a predominantly younger demographic around the globe. Thanks to growing global interest, statistics show that demand for Drone Racing Leagues (DRL) is rising. According to Forbes, DRL has doubled its television broadcast reach from the previous season.
Worasorn says, "Right now, the sport is popular in Thailand. It's been going on for about 5-6 years. Locally, there aren't that many competitions compared to other countries. I usually bring my child to compete abroad."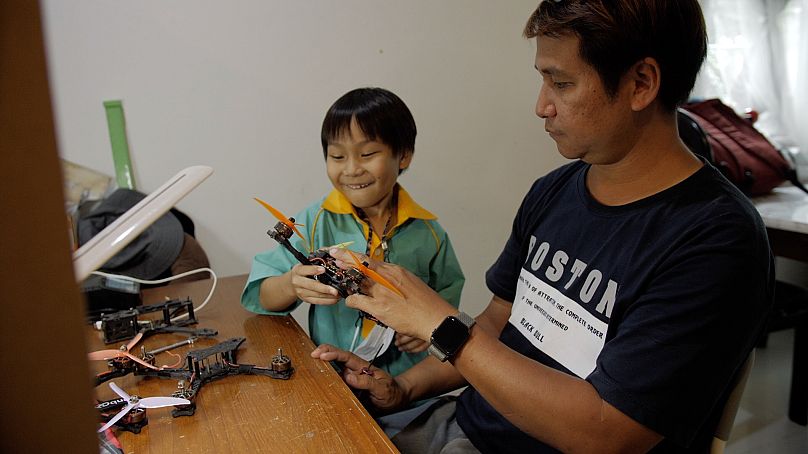 Pepper trained for less than a year with his dad before joining his first competition, where he won the 'Rookie Category'Mary Hasavari
Pepper was only 5 years old when he competed in a MultiGP event in Indonesia in 2020. "My son was in the 'rookie category' and had only trained less than a year. He was able to win first place. He had great skills during that competition. It wasn't something easy to achieve as all of his competitors were adults, but he was able to do it," Worasorn says.
As for his son's transition to FPV drone flying, Worasorn says, "Pepper was able to fly at the age of 4. Then I let him try the real thing, the FPV. It's not easy. You need a lot of coordination, but he could do it right away because he had experience using the simulator."
Crash Landing
Most FPV pilots will crash at some point in their careers. Reducing this likelihood is the goal. 19-year-old Kanpai Larnlua, nicknamed Kan, is another skilled Thai drone pilot. "There are two things you must be aware of – how you steer and the way you see through the goggle," he says.
With muscle memory, nanosecond adjustments become instinctive. "The first time, I just used my eyes while flying. When I tried with the goggles, I crashed because I wasn't used to them. I just continued trying until I got it. It's exciting. I felt a sense of accomplishment."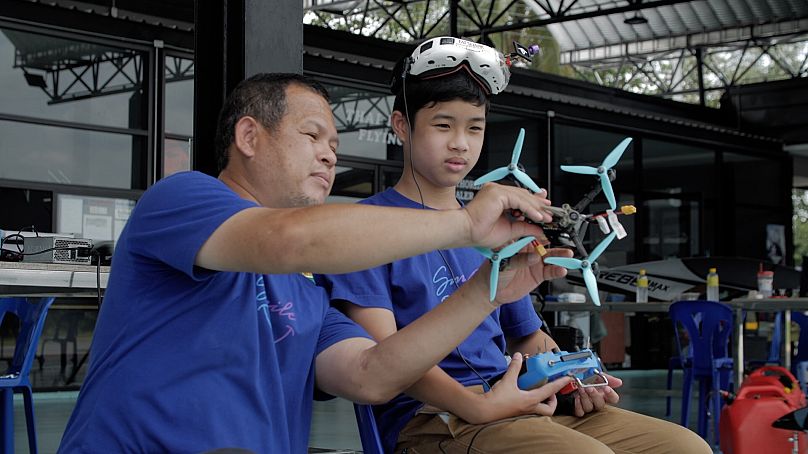 Competitions are few in Bangkok, Thailand, resulting in many pilots going abroad to competeMary Hasavari
Passion is imperative
A successful FPV drone pilot requires plenty of stick time, expertise, endurance, and, according to Worasorn, devotion. "If you want the kids to continue practising it, they need to like it and have fun doing it. Only then will the kid be able to do it for a long time. This sport requires tenacity and a lot of practice. You need to love it; if you don't, it will be hard. You must like it to succeed in it," Worasorn concludes.
The popularity of FPV drone racing is spreading across the globe. Racing competitions are being established, and advanced drone technology is becoming more accessible. Pepper's dream is for the sport to become as mainstream as NASCAR and Formula 1.