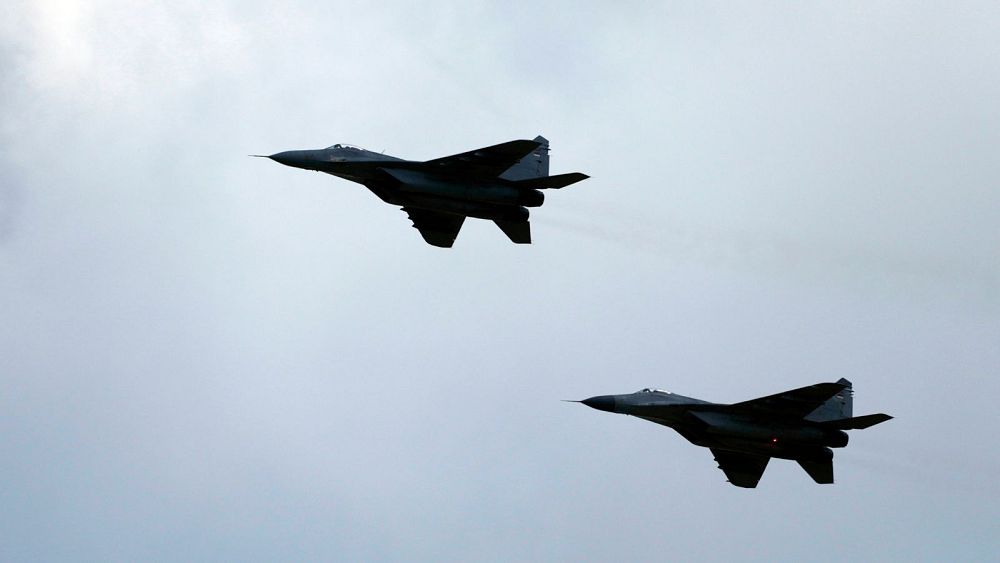 Officials in Poland and Slovakia have renewed their call on allies to provide fighter jets to Ukraine. 
Warsaw and Bratislava say they are ready to send their Soviet-made MiG-29 jet fighters to Kyiv as part of an international coalition.
However, it still remains unclear whether any other Western supporters of Ukraine are ready to take that step.
"I think it's time to make a decision. People in Ukraine are dying. We can really help them," Slovak Defense Minister Jaroslav Nad said Thursday on Facebook, adding that the lack of action was "inhumane and irresponsible."
Ukraine has been asking the West for fighter jets to beef up its defenses as the brutal war enters its second year. 
While Kyiv has obtained promises of tank – some of which are already arriving – there are still no signs that larger nations – like the United States and Britain – will agree to send their warplanes.
Which countries are sending heavy weapons to Ukraine, and is it enough?
Zelenskyy calls for fighter jets "as soon as possible" in Paris talks
Ukraine fighter jets: What are the pros and cons of supplying military aircraft?
What are other European countries doing?
German Chancellor Olaf Scholz has previously shut down the subject of of providing fighter jets to Ukraine; while France is sitting on the fence by saying there were "no taboos" on sending jets, that no ideas were being excluded, but wouldn't commit to actually doing sending any warplanes. 
Dutch Prime Minister Mark Rutte has also said there were "no taboos" in efforts to help Ukraine but added that jets "would be a very big next step."
Kyiv has repeatedly urged allies to send jets, calling them essential to challenging Russia's air superiority and ensuring the success of future counteroffensives spearheaded by Western tanks.
The UK government, among Kyiv's staunchest supporters and military suppliers, said sending its fighter jets is "not practical."
Prime Minister Rishi Sunak's spokesperson said recently that "the UK's Typhoon and F-35 fighter jets are extremely sophisticated and take months to learn how to fly," although he didn't say London was opposed to other nations sending planes.