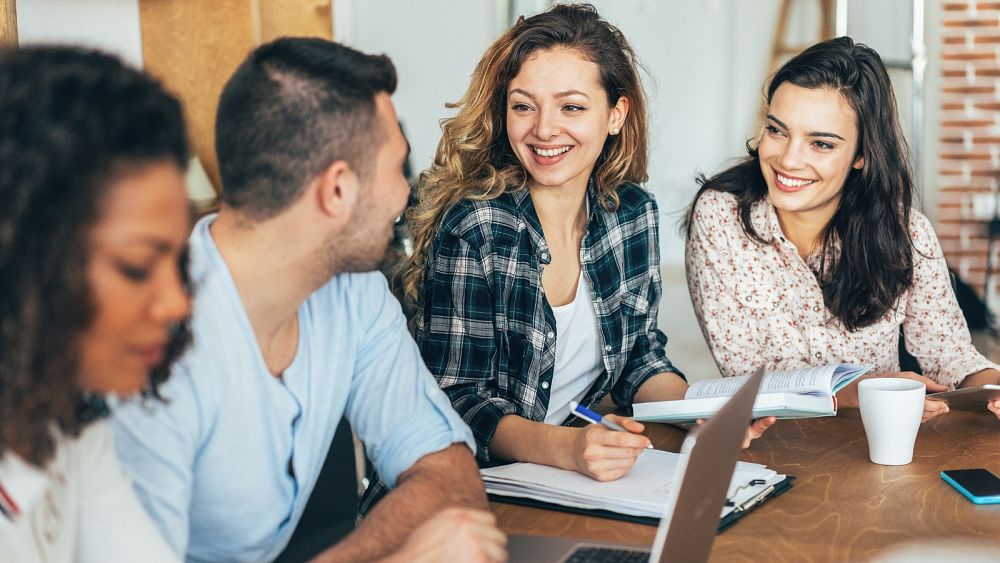 Armando is just one of thousands of students each year who enjoy the opportunity to study abroad without having to freeze their studies at their home university.
Originally from Italy, he has recently started his new adventure in the Greek capital Athens, thanks to the Erasmus programme, which has been sending students across Europe to study abroad for more than three decades.
"Many university students talk a lot more about northern countries as favourite Erasmus destinations. I just wanted to go against the tide and choose one of the least mentioned" he tells Euronews.
After two failed attempts, he finally secured a place at the Panteion University to read political sciences. 
Greece was his first choice he says, "I am mainly interested to discover Greek contemporary history which is hardly taught at schools". He also wanted to find out about the social impact of the economic crisis in 2009 on Greek society.
UK replacement for Erasmus programme receives 40,000 applications
80-year-old Spanish grandfather enrolls in Erasmus course
Does Brexit mean the end of Erasmus for British students?
Armando explains that there are lively discussions by students about favourite Erasmus destinations, and plenty of articles online explaining why a particular country is the "best". Most of them highlight the arts, culture, cafés, and nightlife — all the things a young student might look for — as well as the purely educational opportunities. 
But, is it all down to the personal preference of the students? The number of higher education institutions and Erasmus projects in each country varies greatly.
Statistics from the European Commission show that Mediterranean countries Spain and Italy are at the top of the list for hosting the most Erasmus students and staff.
In 2021 (the latest data available), Spain accepted 77,406 university students from other countries, and at the same time sent 56,891 of its own students to study abroad.
Italy is the leading country when it comes to sending the most students abroad. 
In 2021, Nearly 74,000 students based in Italy got the chance study in another university and discover a new country. 
Liechtenstein is at the bottom of both lists with 88 students opting to study there in 2021, while just 53 Liechtensteiners went to other participating Erasmus universities. 
As much as the number of projects available in each country plays a big role in the data set, the scale of mobility grants and recognition of the qualifications between universities are all decisive factors, before students can make a list of their preferences.
For instance, in 2021, Serbia had mobility grant allocated for higher education totalling up to €1.8 million and run 29 higher education projects. The number of inbound students was 1,084 and outbound 2,397.
Whereas in Germany, 331 higher education projects conducted in the same year with the mobility grant of nearly €93 million. This allowed German institutions to welcome 36,158 students and 45,670 Germany-based students to leave.
Then comes the students' preferences.
Wanting to improve a certain language, cost of living, reputation of an institution or even curiosity towards a culture like in Armando's case, may affect one's choice. But then prospective students must fulfil the requirements such as minimum grade and language level, needed for the selection process.
They may also consider the financial implications of an adventure abroad too. In the current academic year, 2022/23, the student financial help set for Group 1 countries is €600 per month, for Group 2 it's €540 per month and for countries in Group 3 the amount is €490 per month.
These groups are determined according to the cost of living of each country.
Founded in 1987 for the mobility of students within the European Union, the project has expanded over the years to become Erasmus+ and embrace academics, teachers, trainees, volunteers. Moreover, it stretched its borders beyond the EU, involving some partners in other continents.
Now, more than 30 countries participate in the programmes that are not just limited to higher education. Traineeships and community projects promoting women's rights, digitalisation, freedom and many more are part of the Erasmus+ programme.