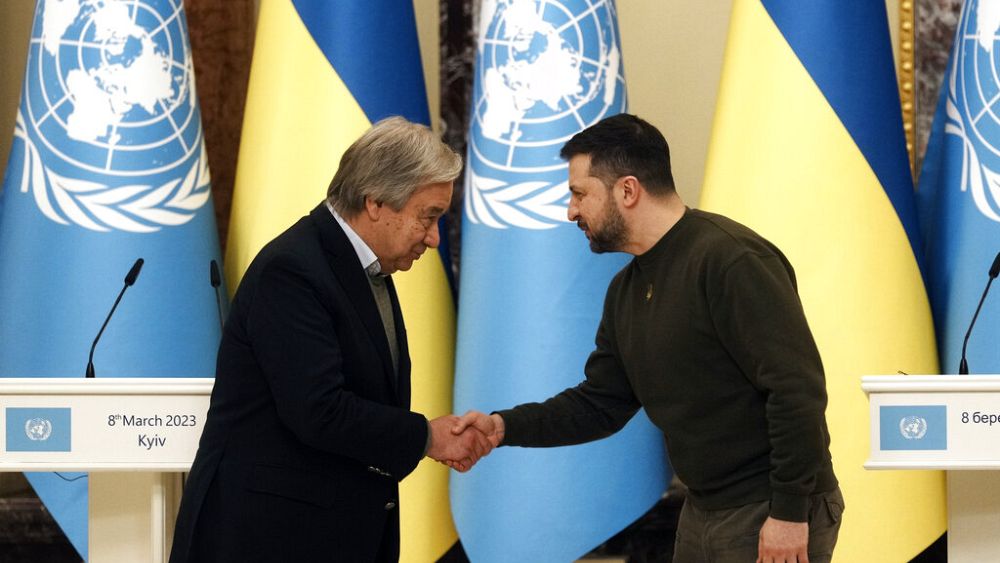 UN Secretary-General António Guterres reiterated the UN's full support to Ukraine in a press conference with the country's war-time president in Kyiv on Wednesday, his third trip to the country in less than a year.
"The position of the United Nations, which I have consistently expressed, is crystal clear: Russia's invasion of Ukraine is a violation of the UN charter and international law. The sovereignty, independence, unity and territorial integrity of Ukraine must be upheld within its internationally recognised borders" said Guterres.
The UN chief is in Ukraine's capital to discuss the Black Sea grain deal which allows shipments to leave the country, permits Russia to export food and fertiliser and keeps food flowing to developing nations.
EU defence ministers mull €2 billion plan to boost ammunition deliveries to Ukraine
On July 22, 2022, Russia and Ukraine, thanks to mediated talks by Turkey and the United Nations, agreed on a deal to unblock supplies of grain stuck in Ukraine's Black Sea ports, ending a standoff that threatened global food security.
This is my third visit to Ukraine in less than a year. My third visit to show our full commitment and to help seek solutions.
António Guterres
UN Secretary-General
President Zelenskyy thanked Guterres for his visit and said: "it is very important that we are talking in Kyiv about how to restore peace, international security, and the full force of the UN Charter – those norms that are equally important to all nations on earth."
However, in February, the amount of grain leaving Ukraine had reportedly dropped despite the brokered deal, with inspections of ships falling to half what they were four months prior, creating a backlog of vessels looking to exit the Black Sea.
Grain deal on knife-edge after 'Russian missiles' hit key Ukrainian port
Ukrainian and some US officials blamed Russia for slowing down inspections and aggregation of the food crisis in some African countries, the Middle East and parts of Asia.
Meanwhile, a London stock exchange group, Refinitiv, said Russian wheat shipments were at or near record highs in November, December and January, increasing 24% over the same three months a year earlier.
 It is estimated Russia would export 44 million tons of wheat in 2022-2023.