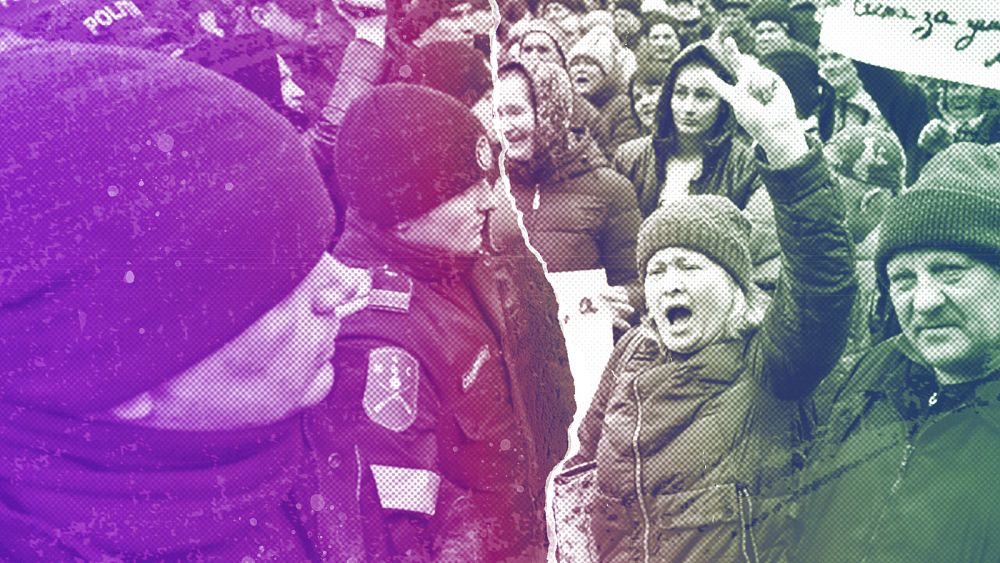 Moldova is having a watershed moment in its three-decades-long existence as an independent state and its split from the crumbling Soviet Union in 1991.
The eastern European country of 2.6 million is enduring the tensest times in its short history as it found itself targeted by the destabilisation plans put into action by the Russian Federation in an attempt to stir further unrest in Europe. 
Yet, it is under the most significant security protection shield it has ever enjoyed from the West. 
Whether that will be enough for its staunchly pro-European and pro-Western government to survive is still unclear.
But as things stand, the leadership in Chișinău is resisting Moscow's malignance — and finding ways to fight back.
Fugitive oligarchs, corrupt former leaders and the Kremlin
By now, it is quite clear that Russia's hybrid and cloaked attacks against Moldova have gained in momentum over the past month. 
Moscow is trying to induce internal destabilisation with the help of its "fifth column," consisting of its political pawns in Chișinău.
Spearheading these attempts to overthrow the government is the Shor Party, led from Israel by the fugitive oligarch Ilan Shor.
Kremlin's maskirovka aims to camouflage violent characters at the Shor Party protests, there to create confrontational scenarios with law enforcement while the protesters shout peace slogans.
A man walks by electoral posters advertising the candidates of the the Shor party, led by Israeli born Moldovan businessman Ilan Shor, in Chisinau, February 2019AP Photo/Vadim Ghirda
Shor, who is of Moldovan heritage, was convicted in 2017 and 2019 as the mastermind behind the so-called "grand theft" of $1 billion (€948.2bn) from the Moldovan banking system. 
The case that made a dent in Moldova's public funding equal to one-eighth of its GDP is nearing its third and final sentencing, with Shor expected to be found guilty once more.
Having its interests converge with Shor's, Moscow is using the protests organised and paid for by him to spark massive social unrest.
Former Moldovan President Igor Dodon arrested on suspicion of corruption
Moldova: New anti-government protests backed by pro-Russian oligarch
On top of that, the Socialist Party, led by former pro-Russian President Igor Dodon, is also involved in the tumult but acts more covertly through televised propaganda and on social networks. 
To Dodon, the potential demise of the current government would represent a get-out-of-jail-free card, having had five criminal prosecution files opened against him on charges ranging from corruption to treason for a foreign power that could see him end up in prison for at least 20 years.
Psychological operations for destabilisation waged by Kremlin
As things are heating up in the capital, Moscow is waging a massive disinformation campaign in the eastern breakaway region of Transnistria and the pro-Russian Gagauz Autonomous Territorial Unit in southern Moldova, where it is hoping to stir further trouble.
Historically, Transnistria and Gagauzia have always been Moscow's main targets whenever it wanted to muddy the waters in the country. 
In both regions, Russia enjoys fervent support. Yet to the surprise of many outside of Moldova, most of the population is terrified of the thought of the Kremlin exporting the war there.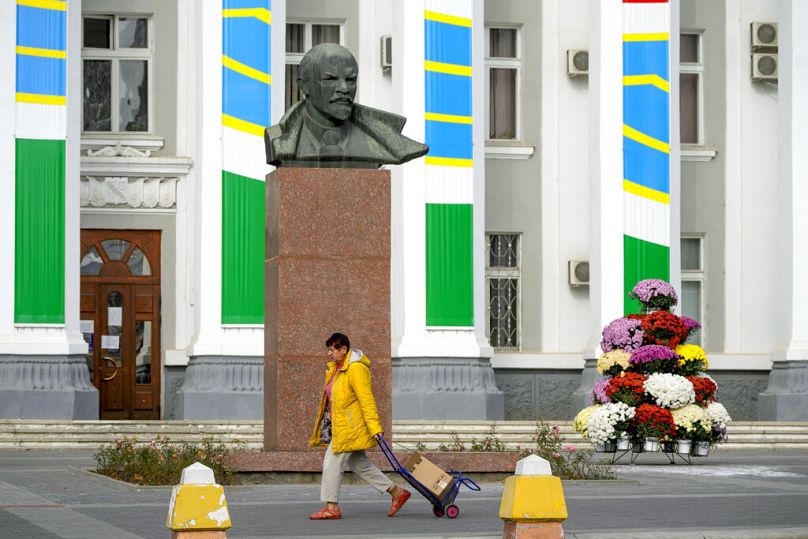 A woman walks past a sculpture of Soviet Union founder Vladimir Lenin in Tiraspol, the capital of the breakaway region of Transnistria, October 2021AP Photo/Dmitri Lovetsky
In its latest psyops game, Russia's ploy heavily hinges on disinformation about an outright military assault by Ukraine on the Transnistrian region. 
Another big lie it is trying to peddle is that President Maia Sandu will push Moldova into war at the behest of the West. 
So far, neither of the two has caught on, despite Russian sympathies the Kremlin is banking on.
Meanwhile, behind the scenes, Kremlin's maskirovka aims to camouflage violent characters at the Shor Party protests, there to create confrontational scenarios with law enforcement while the protesters shout peace slogans.
This plot was recently made public by none other than Kyiv after Ukrainian President Volodymyr Zelenskyy revealed on 9 February that Russia already had plans in motion to destabilise Moldova.
Chișinău has learned how to play hardball
On her end, Sandu confirmed the information on 13 February, ordering detailed controls at the border for people who fit a specific profile: young, athletic men with an interest in trouble.
Among those were Serbia's Partizan Belgrade football ultras, who were prevented from entering the country, and groups from the Russian republic of Dagestan who could not justify their trips to Moldova.
This also sent a clear message to the Kremlin: Moldova has learned how to play hardball on the invisible front of state intelligence.
Since the beginning of the war, Ukraine has been collaborating intensively with Western intelligence services. But so has Moldova, while reforming its Security and Intelligence Agency on the fly. 
Female Red Army war veterans are participating in the Victory Day parade in Tiraspol, Transnistria, Moldova in May 2005BELA SZANDELSZKY/AP
Thus, the information about the destabilisation plans thought up by Moscow most likely came to Chișinău through this channel — also representing a clear signal that the West is seriously involved in countering subversive actions of the Russian special services.
Moldova is bravely standing up to Russia. This could be one of Europe's success stories
Facebook used in operation to 'destabilise' Moldova government
Meanwhile, Moldova has asked its Western partners for anti-air defence systems and has increased its defence budget by about 70% for 2023, up to €85 million.
While the allocated budget is insufficient to procure high-performance weaponry, Moldova already received enough military equipment from Western allies to last for a short time in case of armed incidents.
Poland, Ukraine, Romania and the US are now looking after Moldova
Furthermore, there is a sense of determination among Moldova's neighbours and closest allies to ensure the country's democratic future. 
During his historic speech in Warsaw on 21 February, US President Joe Biden mentioned that the West would be with Moldova and its citizens on the road to European integration. 
His remarks were an important political signal that Moldova has, in fact, been placed under the security protection of Washington and its allies.
After receiving a written guarantee of protection from the US while in Warsaw, Sandu also acquired security assurances the very next day from Romania, a neighbouring state and strategic ally of Moldova.
The West will not allow Russia to reach Romanian and NATO's borders with its troops.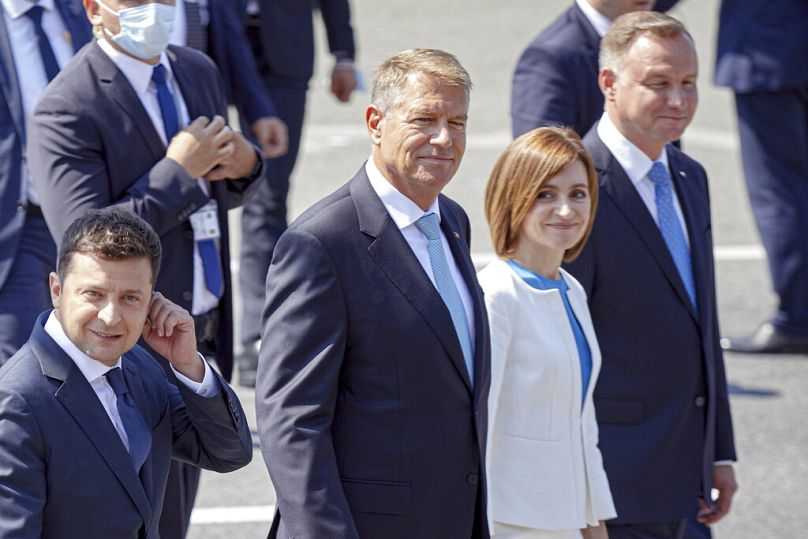 Maia Sandu walks with Poland's President Andrzej Duda, Ukraine's President Volodymyr Zelenskyy, and Romania's President Klaus Iohannis in Chisinau, 27 August 2021AP Photo/Aurel Obreja
Romanian President Klaus Iohannis stated that Romania would continue to support Moldova, whatever happens, saying that "Moldova is not alone." 
Last but not least, Kyiv pledged that it would provide a protective shield for Moldova in case of a military scenario provoked by Russia.
Western countries are keen on ensuring two things: that a puppet regime loyal to the Kremlin is not installed in Chișinău and, simultaneously, not to have a security breach in the rear of the Ukrainian front.
The West will not allow Russia to reach Romanian and NATO's borders with its troops, as that would complicate the security equation in the Black Sea.
Russia conducting 'hybrid war' in Moldova with protests and cyber attacks: Prime Minister
Moldova names new pro-EU prime minister after government collapses
Domestically, the inauguration of the new government led by Prime Minister Dorin Recean — a politician focused on security issues and with experience in Romania and the US — confirmed that Moldova is preparing for a renewed push in addressing the security issues of the country. 
It is then to no surprise that two out of three of Recean's priorities are ensuring security and public order.
Moldovan authorities should still be vary of Russia's resourcefulness
Despite the clear message that Moldova is off limits, for Russia, the invisible chess game is far from over. 
Every protest of the Shor Party is peppered by its paramilitary elements, such as former Transnistrian war veterans and a pseudo-security and protection service called "People's Shield."
Their presence is meant to test the authorities' vigilance and responsiveness and take stock of their limits. 
But law enforcement and security forces are playing along in a clear game of tactics. 
Russia`s ability to be resourceful in destabilising actions is not to be underestimated, as it is one of the secret ingredients of the Kremlin`s modus operandi.
People march during a protest by Moldova's Movement for the People group, and supported by the Russia-friendly Shor Party in Chisinau, 17 February 2023AP Photo/Aurel Obreja
So far, they have opted not to intervene physically and repress protests, thus avoiding to provide opportunities for self-victimisation by the Ilan Shor Party that could further aggravate the society and reap political dividends.
The strategy, instead, is to try and close the valve of financing these protests both domestically and from Moscow, with only a few means left at Russia's disposal.
Moldova is aware that Russia is increasingly sending diplomats to Chișinău for several-day missions. The border police cannot check their luggage and diplomatic correspondence for diplomatic reasons — a convenient way for cash to travel that will eventually have to be suppressed.
But more importantly, any flames of instability will be easier to extinguish, given the lack of support from most Moldovan citizens for Moscow's plans.
However, Russia's ability to be resourceful in destabilising actions is not to be underestimated, as it is one of the secret ingredients of the Kremlin`s modus operandi, especially in the former Soviet space.
Madalin Necsutu is a Romanian political and investigative journalist based in Chișinău who specialises in Eastern Europe and the politics of the former Soviet states in the region.
At Euronews, we believe all views matter. Contact us at [email protected] to send pitches or submissions and be part of the conversation.